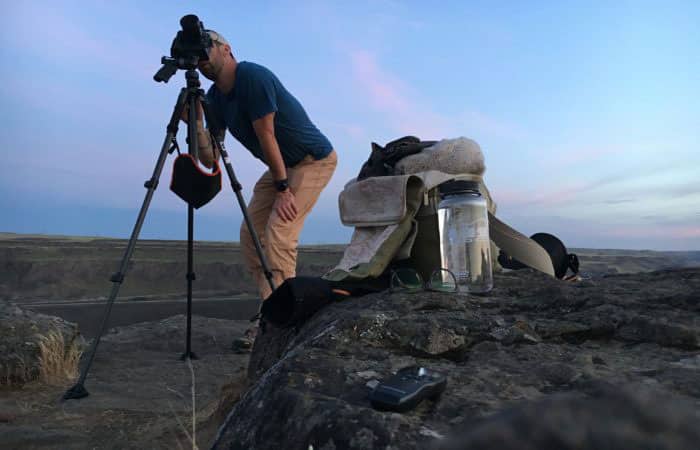 A BROADER PERSPECTIVE
Andrew Steagall brings an enlightened background to real estate photography
Necessity routinely mothers invention, but sometimes it births an artist. Five years ago that happened for the artist who photographed the latest listing for Marilyn Smith Real Estate (see below).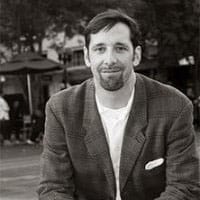 As long as he can remember, Andrew Steagall, right, had his hand in photography, capturing images from weekend hikes and vacations. However, for the serious business of earning a living he pursued more bankable skills. Out of them grew MAS Digital Media, which provided web development, marketing, and search engine optimization for clients nationwide.
"For 15 years I focused on site development and SEO for clients," said the native Texan who long ago moved to Seattle. "But I was getting more requests to build websites than optimize them and so we migrated back to that focus. Because so much of web development time is spent waiting on clients to generate content, particularly photos, I began supplying photography just to move the process along."
One construction company, unhappy with the high-priced photographer they were paying, noticed what Steagall had shot for them and asked if he would get more involved.
"Next thing I know I'm on a retainer and doing all their product documentation," Steagall said. "After they completed each project, I'd photograph it and use the images in marketing materials and leverage them back for the website."
As late as 2012 he still considered his photography stopgap and utilitarian. Then he received a call from a client, an attorney originally from the East Coast now living on the east side. He was "quite thoughtful and didn't say things off the cuff."
"He said he'd seen some images I had used on his website and he loved them, but needed to contact the artist to get licensing coverage," Steagall said. "I laughed and told him they were mine, so he was good. He said, 'I'm really impressed with the quality of the work and your attention to detail. You're really good. I'm not trying to tell you your business, but have you ever thought about being a photographer? I really think that's your talent.'"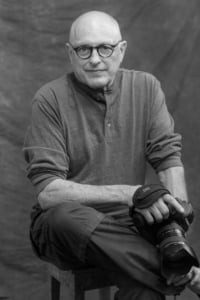 This prompted a call to Rick Carroll, left, whom Steagall had met while consulting and doing development work for a company in south Seattle. Carroll was an accomplished photographer with more than 30 years of work that so impressed Steagall that he asked the veteran if he would agree to mentor and work with him.
"Rick agreed," said Steagall. "We would live, eat, and breathe this practice. We love it."
Carroll would help him get set up, becoming a mentor then a sometime collaborator and eventually a partner with him at MAS Digital Media.
"Rick has a powerful appreciation for the history of photography and life before digital," Steagall continued. "He spent much of his early career using medium-format cameras.
"I'm a futurist in a sense," he continued. "I like to be optimistic about what's feasible and the latest techniques. But I'm also really respectful of the traditional: Where we come from and why. This shared point of view has brought quite a bit of depth and perspective to the practice."
They have now been working closely together for years.
"We're out there, using top-of-the-line equipment, and have been really successful," he said. "We do corporate work, portraiture and documentation, and are now working more and more with real estate agents. Working on property interiors, we can really help the consumer as well."
In addition to his work capturing the interiors and exteriors of homes for sale and construction projects, Steagall maintains a passion for sharing the beauty of the Northwest through his art.
"It's a way for me to get engaged and share back with people my perspective on why the world we're living in is so magnificent and beautiful."

---
A beautiful condo in Queen Anne photographed by Andrew Steagall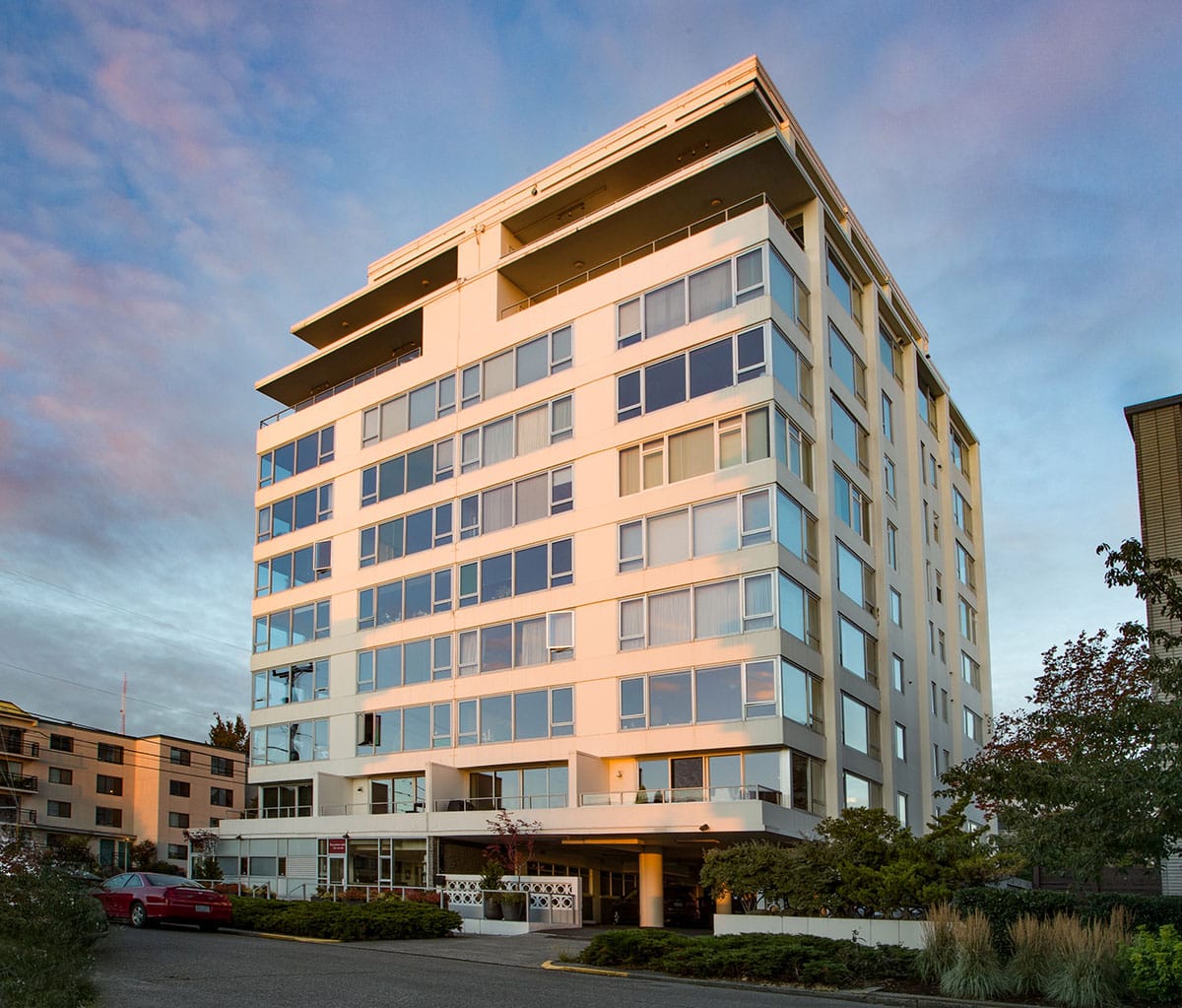 Iconic Modernist Building with solid construction values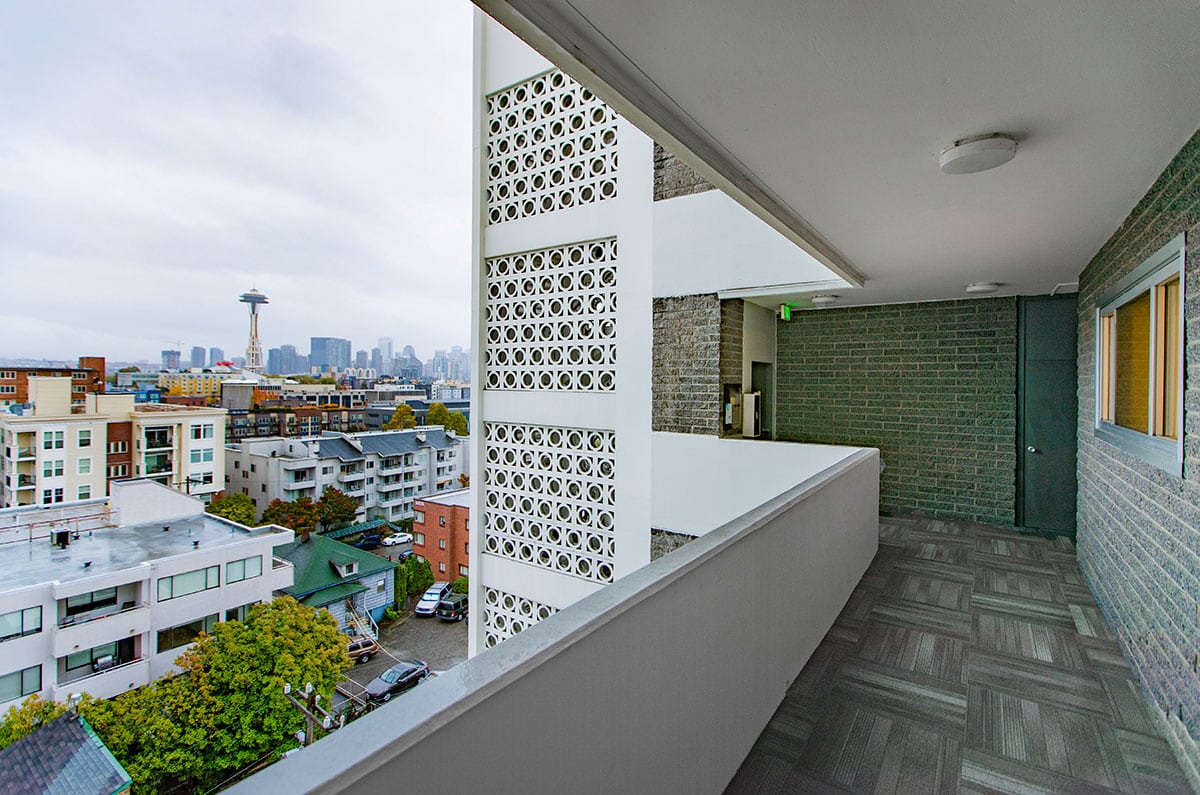 The breezeway outside of #902's front door with a dead-on closeup of the Seattle Space Needle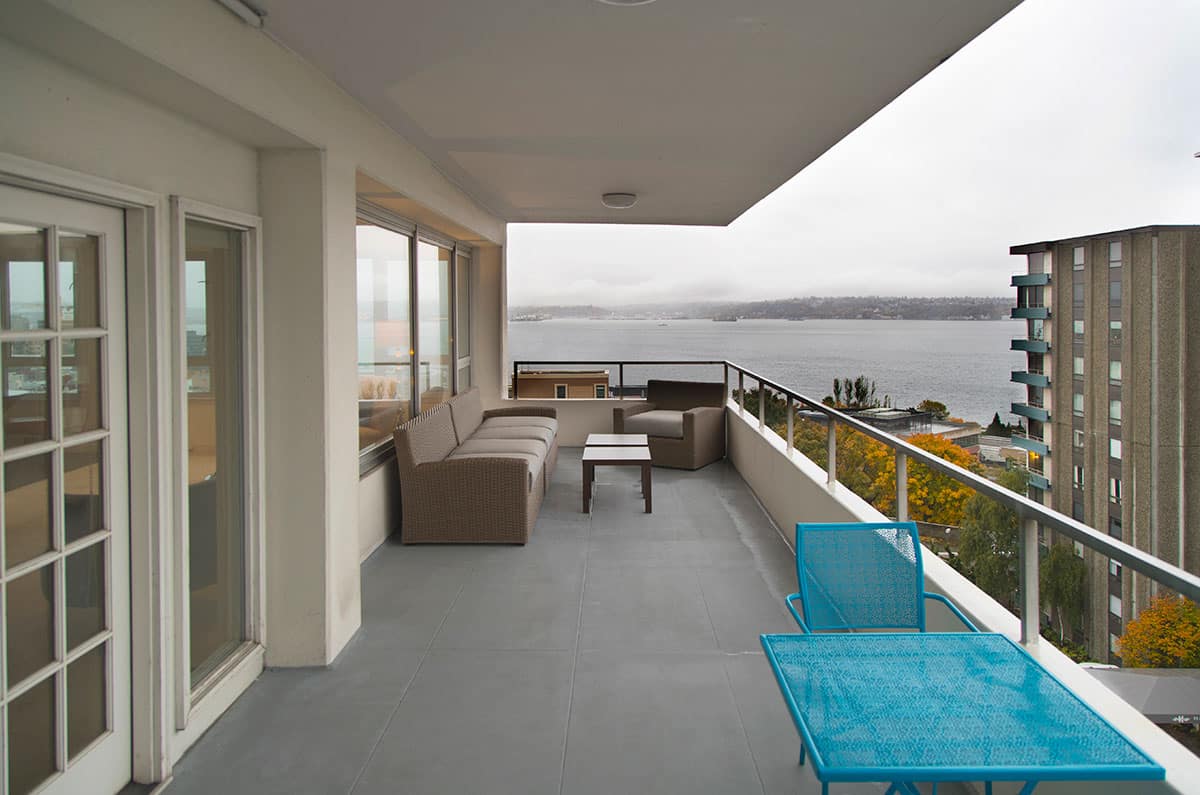 Over-sized terrace with smashing views of the Olympic Mountains, Downtown, Space Needle and Elliot Bay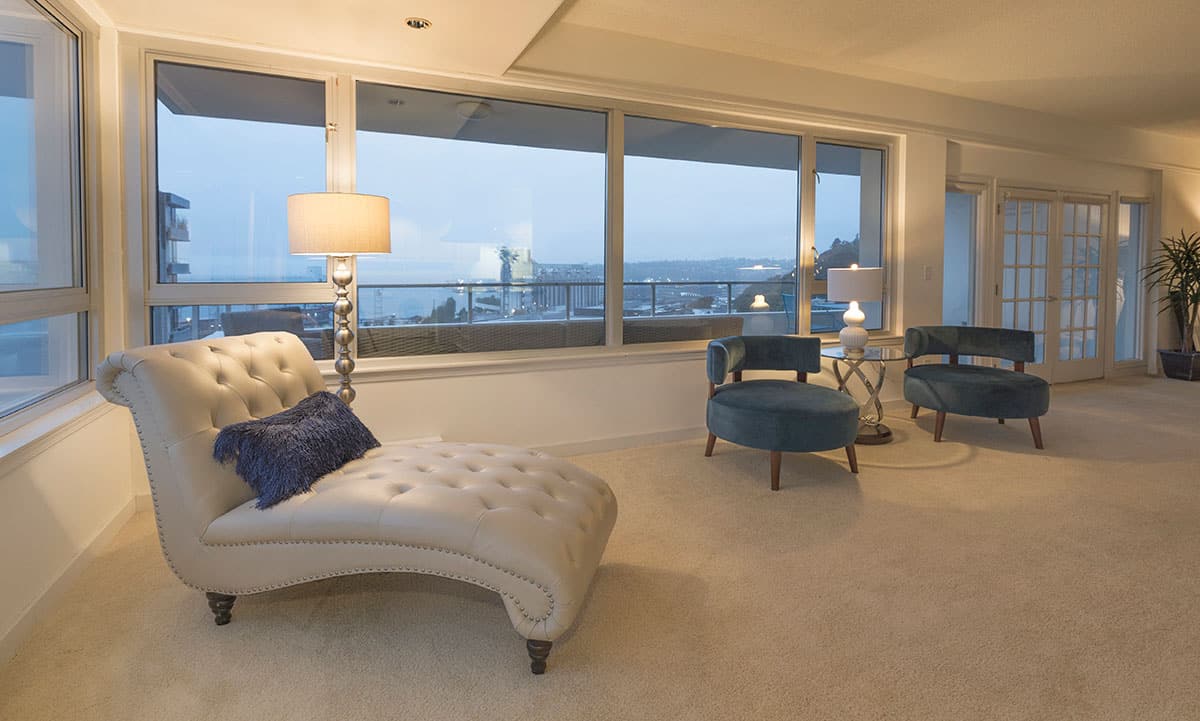 The living room with open, Olympic Mountains, Downtown, Space Needle and Elliot Bay views. Wow. Most new construction 2 bed/2 bath units are HALF the size of this unit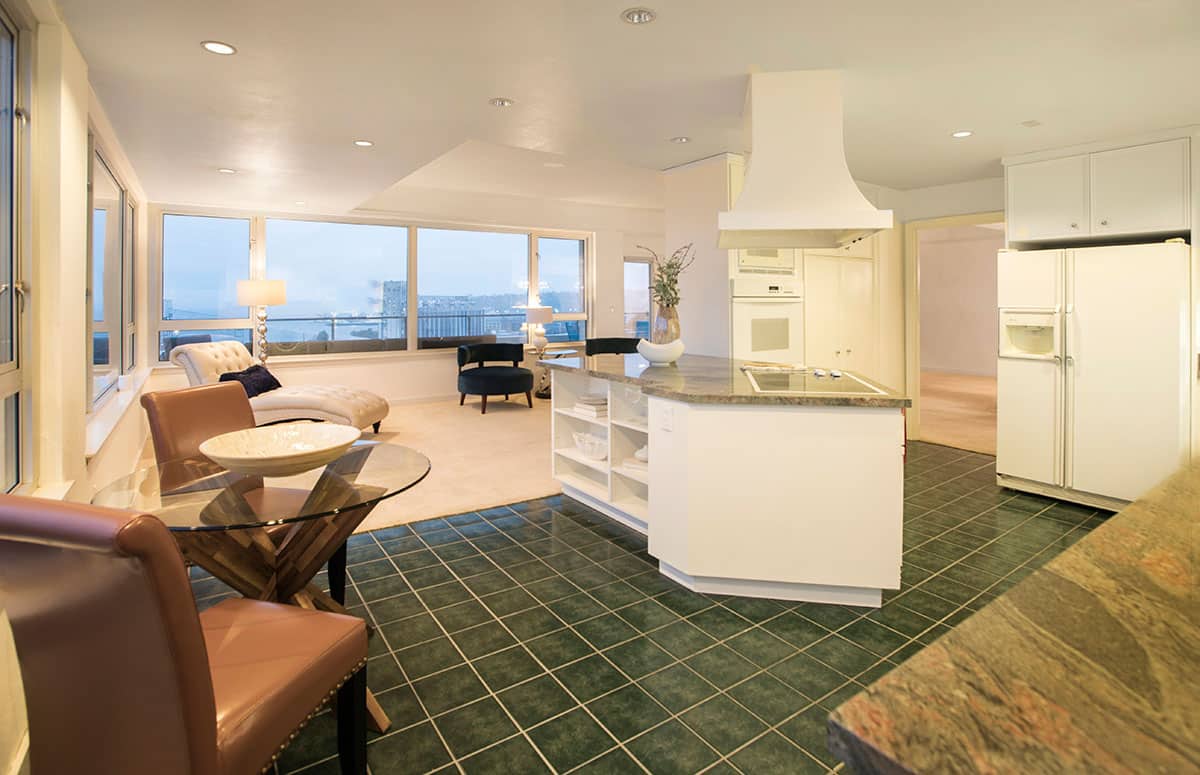 A view from the kitchen. Most rooms in this condo have the same views.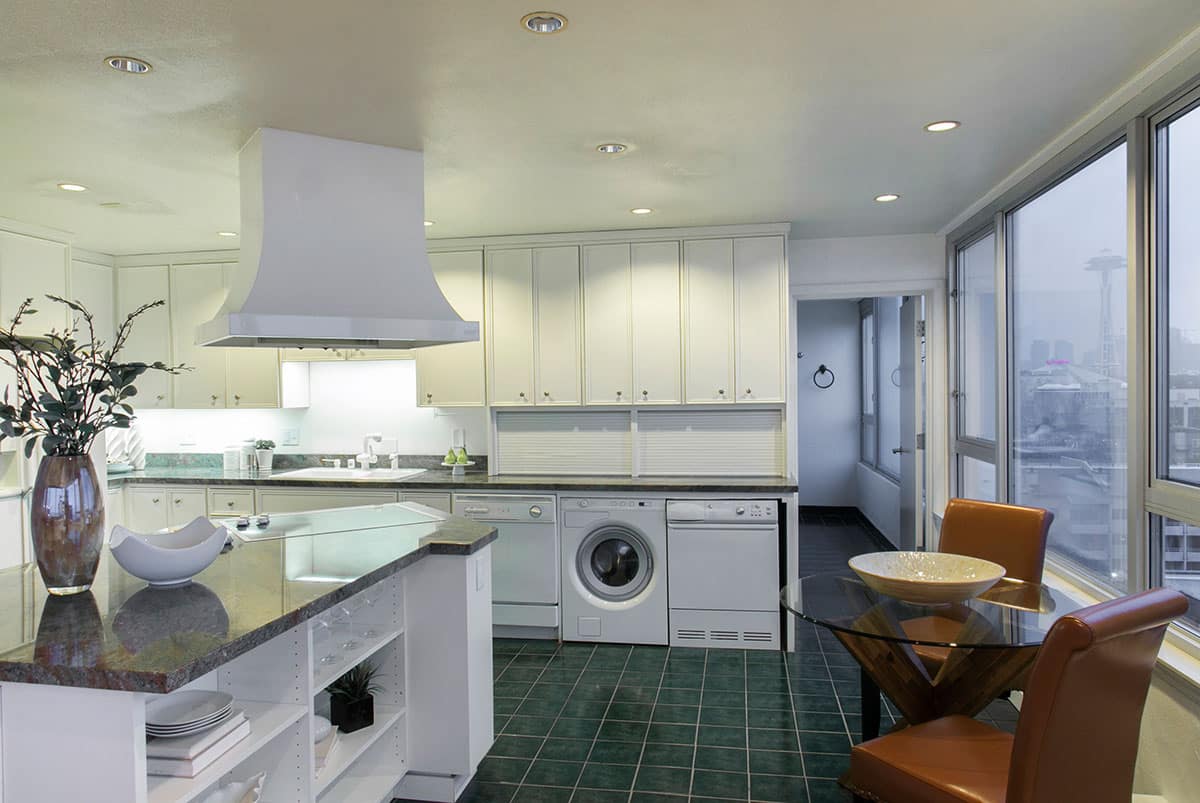 The kitchen with the Seattle Space needle as the backdrop
The large Master Bedroom with extraordinary views of downtown and Space Needle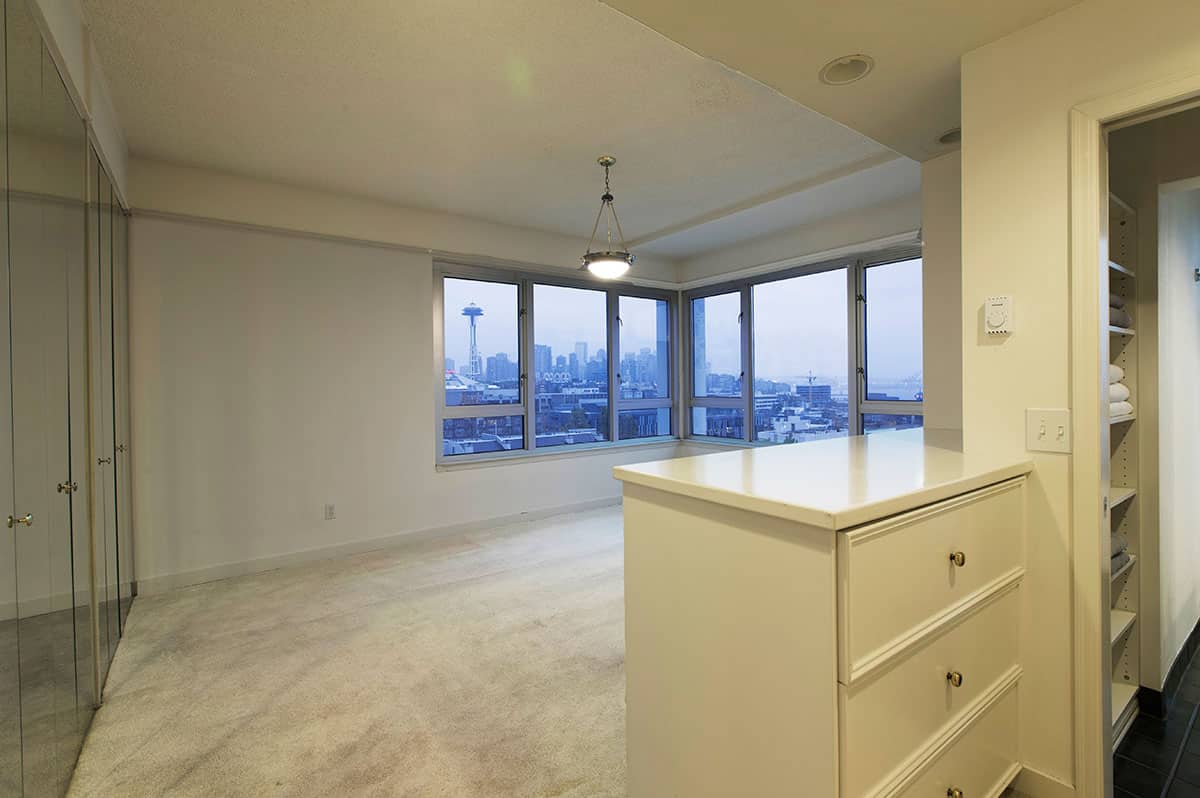 A gorgeous photo of one of the terrace views