Please enjoy the story of Norman Turgeon (below with Jerry Raine and his floating home in Portage Bay) and his business Turgeon Raine. Norman is now retired and happily living on the east side with his lovely wife, Susan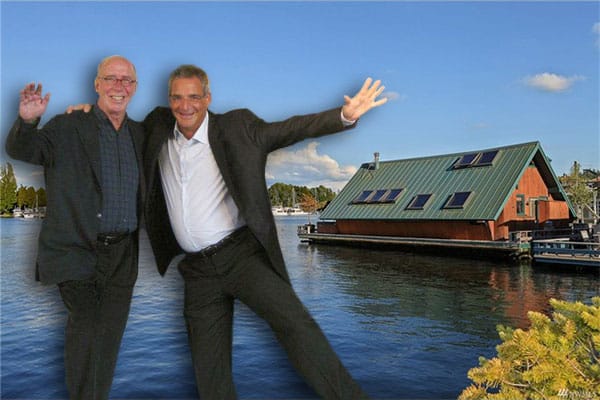 NORMAN TURGEON: NATURAL TALENT
The beat goes on, even as the boat goes away,
for the co-founder of Turgeon Raine Jewelers
In the 1960s, it was the natural beauty of gemstones that brought out the natural talents of a Massachusetts college student named Norman Turgeon, who would go on to found Turgeon Raine Jewelers with Jerry Raine in 1982.
Considered by many to be the finest jewelry store in the Northwest and among the finest in the nation, Turgeon Raine, located in downtown Seattle, specializes in precious gems, diamonds, platinum and gold in original designs, and is the exclusive dealer of Patek Philippe watches in the Northwest.
Turgeon's passions run the gamut, from the lasting brilliance of the gemstones he sells to the fleeting beauty of the music he performs. As a gardener, he's as dedicated to his annuals as to his perennials. And, for decades he's enjoyed the paradox of his permanent address being a home that floats in Portage Bay. This summer, however, that longtime residence is being sold.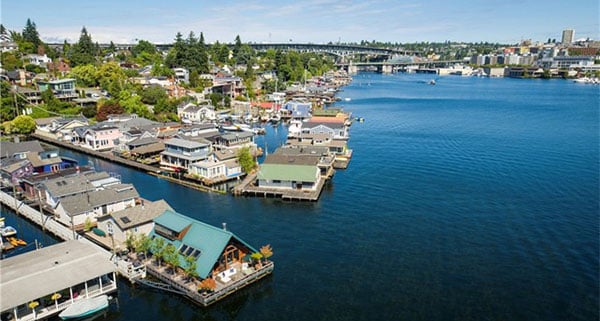 The turning point
Nearly half-a-century ago, it was a college professor who saw the glint of brilliance in one of his business management students.
"He said he'd watched me in class and thought that I'd make a good retailer," Turgeon recently told Seattle Arts & Architecture. "There was a job opening in a jewelry store and he said I should check it out and see what happened."
The professor clearly had a flawless eye for human potential: Three days later Turgeon was outselling every one of the store's veteran staff. He worked there eight years before announcing it was time to move on. They offered to open a store in Connecticut for him to manage, and he stayed three more years.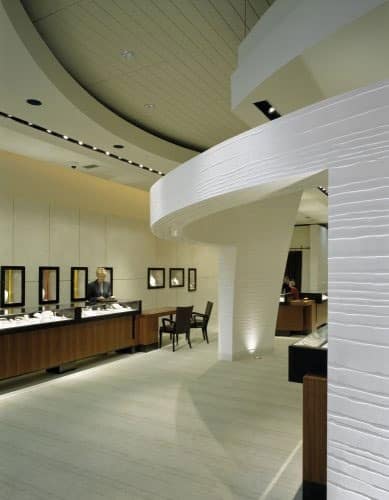 Among the wealthy clientele was a headhunter for the electronics industry. He said Turgeon could double his salary if he was willing to leave Springfield. The headhunter turned a lengthy interview over beers into a 20-page resumé that, after being floated across the nation, landed in the hands of Sid Thal, the owner of Fox's Gem Shop in Seattle.
"He said, 'I know you have a buzz [haircut] and an earring, but I wear a bowler and drive a London taxi around town, so we ought to get along fine," Turgeon recalled.
"So I flew to Seattle during one of those breaks in the weather," he continued. "It was sunny and beautiful and I liked the store, so I went to work for them. After three years a friend in the wholesale diamond business said he and his brother wanted to open a retail store. But they didn't know anything but diamonds.
Because he had a history as a buyer, manager and salesman, Turgeon had a lot of contacts throughout the industry.
"At that time, all of the New York firms had kids my age whose parents had sent them out on the road to get sales experience so they could run the company. Now those kids were running the business and we immediately had $4 million in inventory sent on consignment by friends of mine."
Turgeon Raine Jewelers was off and running.
Room to move
While running the fine jewelry store by day, Turgeon has indulged his other great love, playing harmonica with friends and in bands. The long-running Midnight Ramblers recently disbanded after their lead singer moved to San Diego. But for years they were regular performers at the Musiquarium bar inside the Triple Door in downtown Seattle.
"I can sit in with most anybody," he said. "Mostly blues: country blues, Delta blues. That's what I really like to play."
He has also loved hosting music nights on the floating home he shares with his wife Susan. Friends and fellow musicians would come by to play inside the acoustically perfect main room, or out on the deck overlooking the Seattle skyline.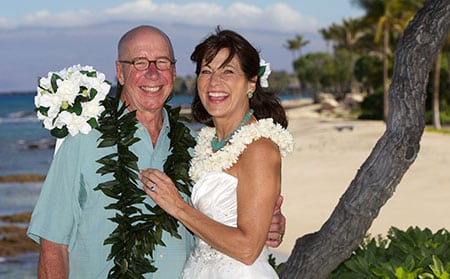 Turgeon and Susan recently decided to sell the 1,034-square-foot gem, along with their perfect dock site located in a houseboat community in Seattle's Portage Bay.
"We're at the end of the dock, with no one on either side and we face the yacht club and the University of Washington," he said. "It's an A-frame on a platform of ironwood deck."
There is a row of 20-foot trees on the along one side of the houseboat, with 13 four-by-four-foot skylights that open up to let in the air and sunshine.
"I mean it looks like a little floating island," he said. "Any of the yachts that go from Lake Washington to Puget Sound pass by our house. There's a never-ending gallery of sailboats and powerboats and yachts and kayakers."
Back to the roots
The home's rich provenance goes back only one more family. Turgeon bought it from the daughter of the man who had owned the biggest steel smelting operation in Illinois. After selling that company to his employees he moved to Seattle and built this jewel of Portage Bay for his wife, a professor of music at the University of Washington.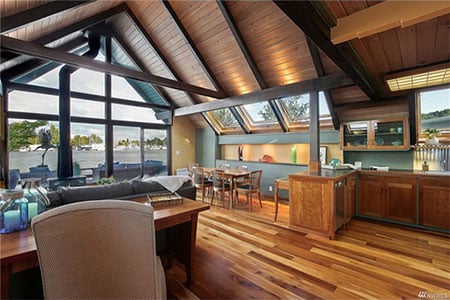 "He built the house in 1968 and it was her music studio," Turgeon said. "She had a grand piano in the living room. I think at one time she had two grand pianos in here and friends would sail over, tie off their boats and listen to the music."
Now Turgeon and Susan will pass the historic floating home on to a new family and split their time between Seattle, where he and Jerry continue to run the jewelry business, and Hawaii, in a home designed by Susan, an engineer, on three acres. Those three acres will bear fruit from the Turgeon's citrus, bananas, and other fruit trees, and be home to a new generation of native plants.
Photos Top, Norman Turgeon and Jerry Raine of Turgeon Raine Jewelers, inset into Portage Bay, with Turgeon's floating home at right; the home's spot at the end of a dock (second photo); the interior of Turgeon Raine Jewelers (third photo); Norman and Susan in Hawaii (fourth photo); and the interior of the home.