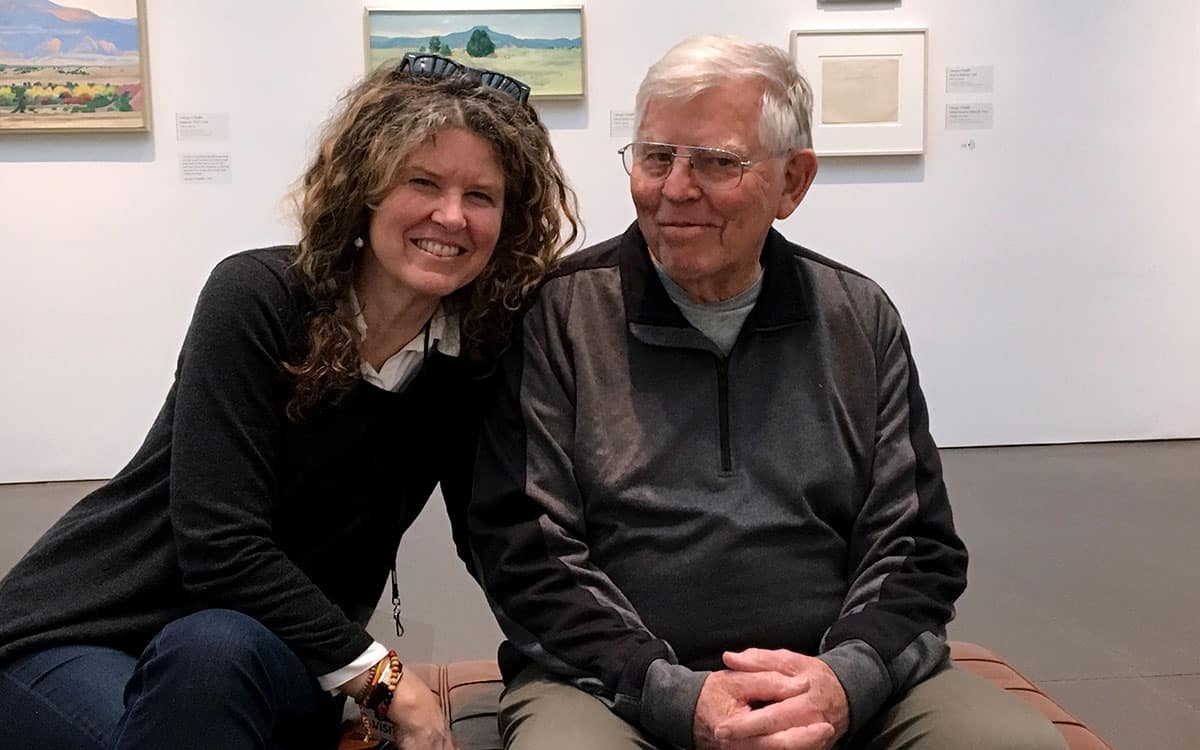 BUILDING HOMES AND FAMILIES
An appreciation of Paul Smith, Builder, Real Estate Developer, and my Father
Paul Smith is not only Marilyn Smith's father, he is father to seven children, 17 grandchildren and husband to the great love of his life and mother to his children, Margaret. Paul is also the link to a family rooted in real estate. In the 1940s his parents started Ted H Smith and Sons Real Estate on Sunset Blvd. in Hollywood, an office his mother ran until the day she died, in her 90s.
While in high school, Paul began working in construction, taking over a laborer job that his older brother Patrick had found while on a 15-day leave from the military. He liked the physical work, being outdoors, and creating something that people would use. He immediately bought a set of tools and built a wooden toolbox to carry to job sites.
"After I worked as a laborer, a company hired me as an apprentice carpenter and I just kept working summers and vacations," he said. "I loved it."
After graduating UCLA in 1959, Paul Smith started getting his construction business off the ground. He was certain that hiring a high-profile architect would distinguish his first house as an independent contractor.
He had an investor, a Frenchman named Jack Villard, and had identified a lot in the Hollywood Hills that overlooked the San Fernando Valley. From a one-room office inside Ted Smith & Sons, he found the phone number for Richard Neutra, a world-renowned architect based in Hollywood.
"I had always thought, if you want to build a spec house, get a good architect to design it, and it will sell," Smith, 89, said recently. "So, I called Mr. Neutra's office."
Neutra was a 57-year-old Austrian-American architect who had designed public buildings as near as the Hollywood County Hall of Records and as far as the U.S. Embassy in Karachi, Pakistan. He is best remembered today for scores of private homes in Southern California that he designed in Mid-Century Modern style. They continue to be featured in international publications and websites.
"Over the phone, I told Neutra I'd like to hire him," Paul continued. "So they called me in to meet him. The investor said he didn't like the idea of a high-flying architect, but, in the end, decided to trust me. I told him we couldn't go wrong."
They arrived in Neutra's office and were ushered upstairs.
"It was an office in a two-story residence," he said. "At that time Mr. Neutra was one of the better known architects, certainly in the United States. He and his wife were very artistic and I remember she would play violin on the patio. Suddenly we hear this clunk, clunk, clunk as his whole staff of architects came up the stairs to meet us.
"Turns out Neutra was trying to impress me with his entire staff," Paul laughed. "So, I hired him, which was kind of gutsy given it was my first job as an independent contractor."
The Viennese-born architect set a high bar for self-discipline. He was so conscientious that he would call and wake up Paul and Margaret at 5:30 in the morning.
"He'd call and say, 'Paul did you do so-and-so, did you do so-and-so?'" Paul laughed. "I had hired him, yet he'd have a whole list of things he wanted me to do. But I really got along well with him. John Blanton was a young guy then, and served as project architect. He wasn't paid a lot, and I remember when I asked if he lived in a Neutra house he said, 'Oh, Paul, I don't make that much money.' He was a nice guy, and went on to create his own firm."
That was the beginning. Paul and his wife, Margaret Galligan, whose families knew each other from St. Ambrose Grammar School in the foothills of the Hollywood Hills, already had five of their seven children, and would soon build their own Mid-Century Post and Beam family home on Westbrook Avenue in the Hollywood Hills.
"I'm very proud of that first house, the Neutra house." Dad said. "It's there to this day. I took all I had learned from Mr. Neutra and put it into several spec houses, and our own house on Westbrook."
As Paul became established as a builder then real estate developer, and Margaret began her career as a kindergarten teacher, which would eventually lead to her getting her masters and teaching Nutrition, they began purchasing and renovating gorgeous Hollywood-style apartment buildings, which they still own to this day.
HIGH RISE AS FIGHTER PILOT
Reaching higher has always been in Paul's nature. Even before he had a license to drive a car he was flying airplanes.
"I soloed before I had a car, when I was 15 years old," he said. "I would hitchhike down to Gardena Valley Airport. There was an instructor who was absolutely wonderful. He was a former airline pilot, and so calm. This was in the late 1940s, so if he was a retired airline pilot then, he was really an early aviator and he helped me develop the love of flying I've had my entire life."
Paul attended Loyola University on a football scholarship. "I was good, but not that good," he said. "They were bigger than I was and I got my teeth loosened and I broke a hand, and after a year at that school I went to Los Angeles City College and earned a two-year degree, then transferred to UCLA."
While at UCLA, he took a break before graduating and joined the Navy to do what he loved to do, fly. Already a competent pilot, he was sent to Pensacola, Florida for flight training.
Paul became an aircraft carrier fighter pilot, specializing in night flights. He flew an F2H-3 Banshee and Douglas A-4 Skyhawk and his stories of launches and landings off the aircraft carrier USS Yorktown are both astounding and revealing.
"I was 38,000 feet over the Formosa Straits in the dark, dark, dark," begins a typical story, "when a Russian MiG pilot came on my radar. My first thought is, 'How old is he? … Does he have a family?'"
That is the way Paul was, and is to his kids and wife: Always thinking about the other guy.
And, when landing on the Yorktown aircraft carrier, a major feat in and of itself, especially in those days, he would sing to himself that famous Scottish song, "There is somebody waiting for me. …" Telling that story always brings a tear to his eye.
"I was stationed in San Diego, and flying jets all day and then I had this little Ryan ST – PT 22 of my own," he said. "After my last flight with the squadron, I'd go over to this little air park and fly this little open cockpit PT 22 and stunt the heck out of it. I was pretty good at aerobatics at the time."
He would fly that plane down to beaches in Mexico.
"We'd fly down and land on a beach in Mexico, without permits or anything," he said. "That's a good way to take a girl on a date, to take her flying. Margaret loved it. She never had a fear of flying, so we had a lot of fun. We'd fly in our bare feet." Paul continued to fly airplanes into his mid-80s.
SOLID FOUNDATIONS WITH HIS FAMILY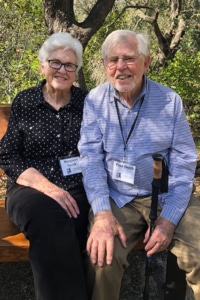 The dating and courting days would lead to years of raising a family of seven. Paul and Margaret Smith's first child was named Paul, and second was named after Margaret, though Margaret Ann would be known as Ann. Marilyn (Marilyn Smith Real Estate) was next. Then came twins Eileen and Colleen, and finally, Liz and Joe.
The Smith kids grew up helping their Dad and Mom with their apartment buildings. Along the way, they were taught hard work and service to others is important, but family is most important.
This year, Paul and Margaret's children, sons- and daughters-in-law, and 17 grandchildren joined them to celebrate their 60 years of marriage and Paul's 89th birthday on October 15.
Meanwhile, the old Neutra house he built continues to be featured in various international magazines and websites, including Curbed and here on Seattle Art & Architecture.
"I'm so proud to go by and look at it," he said.
The Smith kids could not love him and their Mom more. Now, with two real estate developers and a real estate broker (Marilyn Smith), they are proud to carry on in the family tradition in real estate.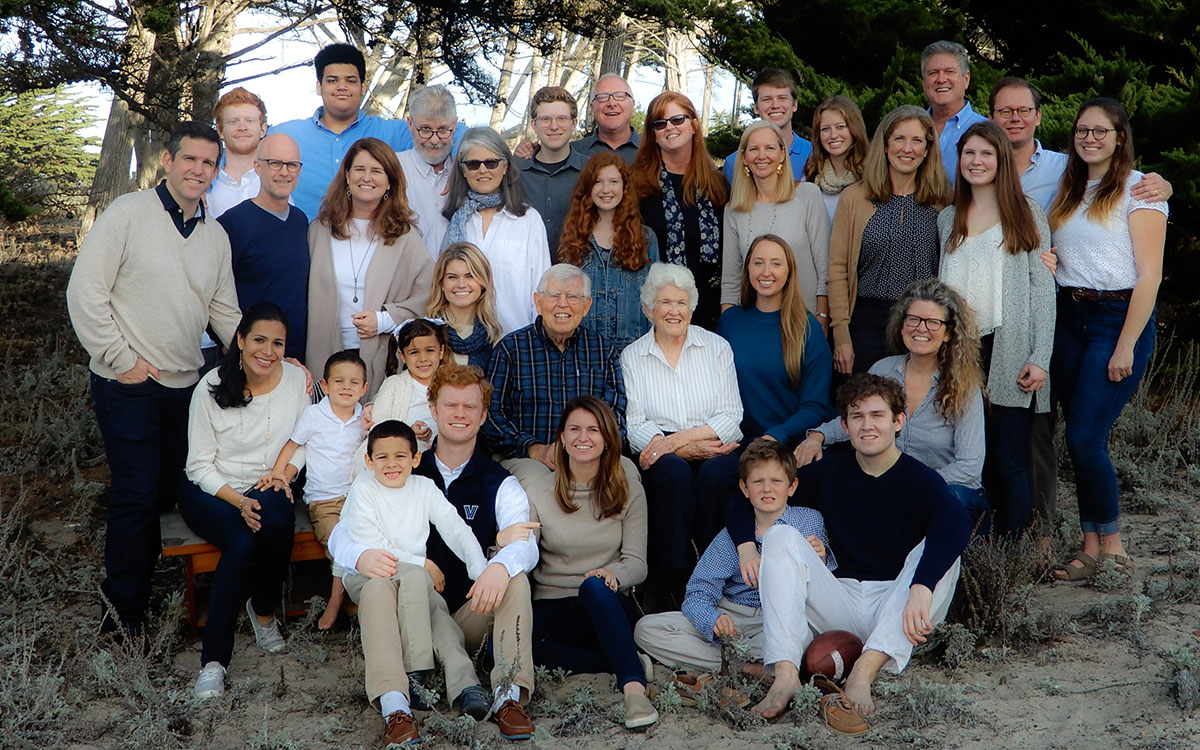 Paul and Margaret Smith with their seven children, their spouses, and 17 grandchildren! … Bottom row (on dirt), left to right: Santiago, Brody, Emma, Walt and Thomas; Bottom row (seated), left to right: Melly, Matteo, Catalina, Zoey, Paul, Margaret, Mary, Marilyn; Middle row, left to right: Joe, Brock, Eileen, Ann, Kate, Colleen, Lorraine, Liz, Clara; Top row, left to right: Henry, Charlie, Daniel, Cole, Dave, Paul III, Margaret, Paul Jr, Maurice and Amelia
---
PHOTOS Marilyn Smith and her father, Paul (top); Richard Neutra at the VDL Research House II in Los Angeles, 1966 (Julius Shulman, first inset); Paul photographs a fellow jet pilot mid-flight (second inset); Margaret and Paul Smith outside their home on the Monterey Bay (third inset).